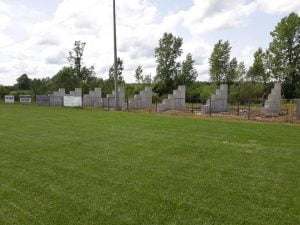 Globalna pandemija korona virusa….
Viceprvaci u seniorskoj konkureniciji…
Ulazak u 2 Ligu (treci rang takmicenja u BiH)…
Izgradnja neophodne tribine i infrastrukture za takmicenje u 2 ligi
i ono mozda najbitnije PRVACI U KADETSKOJ KONKURENCIJI,
a to nam je GARANT BUDUCNOSTI!
…jer BRDO ZIVOT ZNACI!
….uskoci na voz i postani i ti dio upsjeha.
Ukoliko zelite pomoci, podrzati rad OFK BRDO i biti dio uspjeha sada je pravi trenutak. Razloga je i previse, jer OFK BRDO je mnogo vise od "sportske price". Prepoznali su to i nasi prijatelji iz humanitarne organizacije "Humano Brdo", koja je SINONIM ZA USPJEH kada su u pitanju pomoc i podrska stanovnistvu ne samo na lijevoj obali Sane i Prijedoru, nego i sire. Prepoznali su entuzijazam i iskrene namjere NOVE UPRAVE kluba koja je u veoma kratkom roku ostvarila nestvarne rezultate, kako na sportskom tako i na organizacionom nivou. Ovom prilikom ogromnu zahvalnost dugujemo i "Humanom Brdu" na ukazanom povjerenju i promociji kolektiva OFK BRDO.
Kako mozete ucestvovati – jednostavno.
1. Clanstvom u vec aktivni KLUB 100 sa ucescem u iznosu od 100KM (ili protuvrijednosti neke strane valute).
2. Namjenska uplata za izgradnju tribine u dobrovoljnom iznosu.
Uplate se vrse na jedan od sljedecih nacina:
Putem ziro racuna:
Humano Brdo | Banka : Oberbank TraunIBAN: AT 901500300761068915 | BIC/Swift: OBKLAT2L
ili putem Pay Pal-a:
humano.brdo@live.at
uz sljedece naznake uz uplatu
KLUB 100 (za clanstvo u klub 100) ili
TRIBINA (namjenska uplata za izgradnju tribine).
Svaka uplata je ucesce u uspjehu, i prema tome je od ogromnog znacaja za OFK BRDO. Bez vase podrske ovaj uspjeh nebi bio moguc.
Veliko HVALA svima koji su i do sada bili uz OFK BRDO.
ZAJEDNO SMO JACI
….JER BRDO ZIVOT ZNACI!!
Detaljnije informacije na linku ispod:
http://humano-brdo.com/events.php?subaction=showfull&id=1591649454&ucat=4&template=eventi&