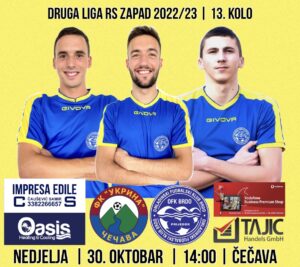 Susret 13. kola Druge fudbalske lige, grupa zapad, ekipi Omladinskog fudbalskog kluba Brdo donosi gostovanje u Čečavi. U goste se ide ekipi koja je imala katastrofalan start, ali u posljednje vrijeme igra sve bolje. Ukrina ima devet bodova i to osvojenih u proteklih pet kola.
NAJAVA UTAKMICE UKRINA- OFK BRDO
Brdo ide na ovo gostovanje u dosta oslabljenom sastavu. Mijić i Miodragović odrađuju crvene kartone. Biće to prilika za igrače s klupe da se nametnu i pokažu svoje mogućnosti.
Protekle sezone nismo imali adekvatnu internetsku vezu za live iz Čečave, tako da još uvijek ne možemo reći, da li ćete ovu utakmicu pratiti u "živom" prijenosu. Utakmica se igra u nedjelju u 14:00 sati.