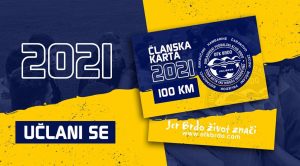 Nedavno održana Skupština Omladinskog fudbalskog kluba Brdo daje nam za paravo da s puno optimizma gledamo u budućnost. Što je najvažnije, klub je na zdravim nogama i u pravim rukama. To su pokazali postignuti rezultati u nezaboravnoj godini na rezultatskom i infrastrukturnom planu, ali i organizaciji kluba.
OFK Brdo je završilo godinu bez dugovanja. Ekonomskim jezikom rečenom, pozitivna nula. To je znak da se u voljenom klubu ponaša domaćinski i vodi računa o rashodima. Članovi skupštine su imali detaljan uvid u troškove kluba. Na uvid su dobili prihode i rashode za izgradnju tribina i finansijski izvještaj za proteklu godinu. Dakle, ta transparentnost i pošten odnos prema klubu je veliki adut za ovu godinu u kojoj moramo biti još više uz voljeni klub jer ne treba zaboraviti da nam je zbog pandemije izostala organizacija žuto-plave noće od koje smo prošle godine u klupsku kasu ubacili značajan dio prihoda.
Grupa velikih entuzijasta i ljudi koji prije svega vole rodni kraj i drugoligaša s Vedrog Polja ovih je dana bila jako aktivna.
Cilj nam je bio povezati raju širom svijeta i omogućiti što bolje uslove za realizaciju projekta ČLANSKE KARTE 2021.
Imate mogućnost da na ovaj način pružite značajnu podršku za klub koji život znači.
Članske karte 100 i 50 eura za inostranstvo i 100, 50 i 20 KM u BiH. Ekipa sjajnih ljudi koji su u proteklom periodu pružili klubu veliku finansijsku i svaku drugu pomoć, organizovano će raditi na distribuciji članskih karti u zemlji i inostranstvu. Nakon uplate članarine, članska karta će vam biti dostavljena na kućnu adresu.
Ukoliko poželite, objavljujemo vašu fotografiju s članskom kartom na Facebook stranici kluba.
Kontakt osobe za inostranstvo :
Abdulah DULE Svraka – Svajcarska
dulesvraka@hotmail.com
0041 764225999
Dino Dedić – Austrija
dedicdino8@gmail.com
066488744105
Damir Habibovic – Njemačka
damir02@live.de
Mirsad Čaušević – USA
causevic2017@gmail.com
773-418-5378
Samir Čaušević – Italija
samirc@alice.it
00393382266657
Azmir Causevic – USA
(313) 610-1312
Elvedin Pađan – Švedska
MojPrijedor@hotmail.com
0701883397
Uplate u Švedskoj se mogu obaviti i putem Swish na gore navedeni broj.
50 eura = 550 sek
100 eura = 1100 sek
Kontakt osobe za BiH su
Benjamin Kadirić 065603088
i Amir Duratović 066341516
OFK BRDO Transakcijski racun: 5520210001842228 (Addiko bank)
Uplate se mogu uraditi i preko HO Humano Brdo 2010
Uplate Putem žiro-računa
Humano Brdo 
Banka : Oberbank Traun
IBAN: AT 901500300761068915
BIC/Swift: OBKLAT2L
Pay Pal: humano.brdo@live.at
Svrha: Članske karta
Poštovani navijači, simpatizeri i prijatelji OFK Brda, veoma je važno postanete dio ekipe koja na ovaj način pruža pomoć voljenom klubu. Čekamo vaše pozive, članskih karata ima dovoljno za sve.
…jer Brdo život znači!