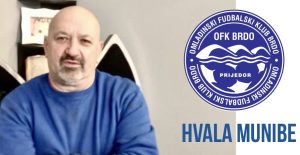 Šta je to u ovom dobrom čovjeku? Kolika je njegova duša i otkud tolika dobrota? Ljudi koji dobro poznaju, njegovog rahmetli oca, reći će vam da je to genetski. Možda je to i najbolji odgovor jer Munib Cerić, rodom iz Miljakovaca, prijedorske Mjesne zajednice Ćela, po tko zna koji put je pružio podršku klubu koji život znači.
" Znam da sad pripremate ŽUTO PLAVU NOĆ i da ima troškova. Šaljem vam 300 KM i nadam se da će ovo biti najuspješnija manifestacija dosad jer vidim da radite transparentno u interesu kluba".
Ovo je poruka koja je do Mataruškog Brda stigla iz Čikaga. Govori o ovom velikom insanu, ali i sve što radimo da Omladinski fudbalski klub Brdo bude sportski kolektiv za primjer.
Veliko hvala našem donatori i članu, a ovo je i najbolja najava ŽUTO PLAVE NOĆI.
Mnogi je razloga da 26.12. budemo uz klub koji iz dana u dan ima sve značajniju podršku.