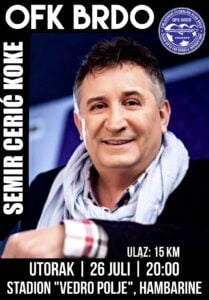 Datum koji morate rezervisati je 26. juli jer to je dan kada vas očekuje tradicionalni koncert u organizaciji Omladinskog fudbalskog kluba Brdo. Naš gost je Semir Cerić Koke koji obećava koncert o kojem će se pričati.
,,Radujem se dolasku na Vedro polje i ovom koncertu jer dolazim u kraj koji zna šta je dobra muzika i zabava. Zato vas pozivam da budete s nama 26.jula i prisustvujete koncertu", poručuje Koke koji je pokazao veliko razumijevanje prema Omladinskom fudbalskom klubu Brdo.
Biće to prilika da se zabavimo i pružimo finansijsku podršku klubu koji život znači. Očekuju vas brojna iznenađenja. Vidimo se na Vedrom polju, 26. jula.