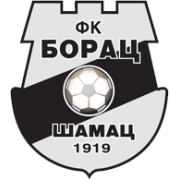 U okviru petog kola Druge lige FSRS grupa Zapad na stadionu Vedro Polje gostovat će ekipa Borca iz Šamca. Ekipa Borca u dosadašnjem djelu prvenstva izgubila je jedan susret i to protiv lidera Jedinstva, te je zabilježila dvije pobjede uz jedan meč koji još nije registrovan zbog prekida a sve su prilike da će biti registrovan u korist Borca.
U gostujućoj ekipi koja je sastavljane od nekoliko iskusnih igrača koji su igrali Premijer ligu Bosne i Hercegovine te imali i inostrani angažman ističe se Joco Stokić, vezni igrač koji je u tri kola uspio dati i tri gola iako mu to nije prvenstvena zadaća. Ako Stokiću pridodamo i brzonog desnokrilnog napadača Susakovića dolazimo do saznanja da će odbrana našeg kluba biti na velikom iskušenju. Međutim mi vjerujemo u naše momke, koji su obje dosad odigrane domaće utakmice dobili ubjedljivim rezultatom, tako da očekujemo da se u Nedjelju na stadionu Vedro Polje nastavi pobjednički niz.
Jeste da je Borac iskazao ambicje ulaska u Prvu ligu FSRS, jeste da su u dosadasnjem djelu dali osam a prilimili pet golova i tako pokazali da osim napada imaju i jaku odbranu, momci sa Brda vrjedno su radili i spremno dočekuju ovu utakmicu.. Analizirajući naše domaće utakmice znamo da naši igrači uvijek dobro odigraju teške utakmice, nadamo se da će tako biti i u buduće..
Hoće li Miličević i Stegić nastaviti rešetati protvničke mreže, dali će Ibričić nastaviti djeliti asistencije, kako će kapiten Karupović sa kolegama iz odbrane zaustaviti napade gostiju ostaje nam da vidimo u Nedjelju na stadinou Vedro Polje u 17:00 sati kada se sastaju:
Ofk Brdo – FK Borac Šamac
Jer Brdo život znači….