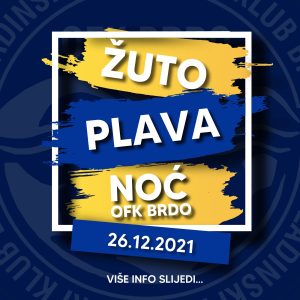 Jednoglasnom odlukom Upravnog odbora Omladinskog fudbalskog kluba Brdo odlučeno je da tradicionalna, klupska manifestacija, ŽUTO-PLAVA NOĆ, bude održana 26.12. (nedjelja). Također je odlučeno da ulaznica košta 10 KM.
To je odlična prilika da napunimo klupsku kasu i pružimo podršku voljenom klubu. Uz bogat reportoar jela i pića, orkestar i muziku uživo, biće to noć puna iznenađenja za sve posjetioce.
Ove godine smo postigli najbolje rezultate od 2005. godine kada je osnovan Omladinski fudbalski klub Brdo. Sigurni smo da ćemo ove ŽUTO-PLAVE noći srušiti rekorde kada je riječ o prikupljenim finansijskim sredstvima za klub koji život znači.
Upravni odbor kluba vas poziva da nam se pridružite i nagraditite transparentan rad i zapažene sportske rezultate.